In Memoriam
Executive Producer
Dr. A. Kenneth Curtis,
1939-2011
Executive Producer and trusted advisor Dr. Kenneth Curtis passed into the arms of the Savior on Sunday, January 2, 2010. Ken was the founder of the Christian History Institute and of Vision Video, distributor of Wesley. He was one of the producers of The Cross and the Switchblade (1970) and produced numerous films related to Christian history. He pursued his dual interests in Christian history and filmmaking with gentle kindness and persistence. It was Ken's gentle insistence that got producer John Jackman to consider the challenge of creating a film about John Wesley.

In 2002, Ken was diagnosed with lung cancer and given 8 months to live. However, he undertook serious treatment and lived for 8 very full years. During that time, he produced Reflections on Psalm 23 for People With Cancer and two similar programs that have proved remarkably powerful for others struggling with cancer.

We will miss him.

For an excellent memoriam from the former editor of Christian History Magazine, visit:
Thank You, Ken Curtis: A Pioneer in the Popular Communication of Christian History Passes.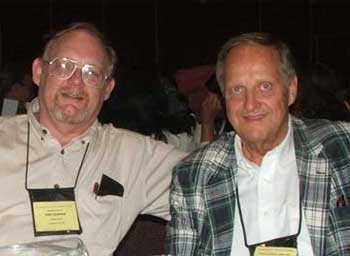 John Jackman and Ken Curtis at the 2008 ICVM Convention
---
Actor Kevin McCarthy, 1914-2010
Veteran film and television actor Kevin McCarthy died Saturday, September 11th, 2010. He was 96.

McCarthy appeared in Wesley as "Bishop Ryder," a Church of England bishop who defends John Wesley from an attempt to defrock him. Wesley was McCarthy's last feature film. He was best known for his role in the classic 1956 film Invasion of the Body Snatchers.

McCarthy was recognized by the industry for the role of the disillusioned son Biff in the 1951 screen adaptation of Arthur Miller's classic Death of a Salesman, for which he won a Golden Globe and was nominated for a Best Supporting Actor Oscar. McCarthy has appeared in numerous classic television series, including Twilight Zone and Columbo, as well as starring in The Survivors, Flamingo Road, and Poor Little Rich Girl. The stage-trained actor has also been acclaimed for portrayal of President Harry S Truman in the one-man show Give 'Em Hell, Harry!