Latest News
Wesley Receives Top Recognition at WorldFest

Posted by Administrator (admin) on Jun 06 2011
Latest News >>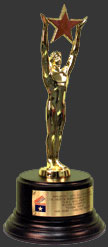 Wesley has been awarded the Platinum Remi Award at WorldFest Houston, one of the oldest independent film festivals in the world. The top recognition came in the category of Independent Feature Film - Christian, and was presented at the Remi Awards Gala on Saturday, April 16th at the Marriott Westchase in Houston. This year, there were over 3500 entries from around the world, with fewer that 4% being recognized with a Platinum Award. Many categories did not have an entry that received a Platinum award.

WorldFest was founded 50 years ago as Cinema Arts, an International Film Society in August, 1961. WorldFest became the third competitive international film festival in North America, following San Francisco and New York. WorldFest is the oldest Independent Film & Video Festival in the World. It evolved into a competitive International Film Festival in April, 1968. It was founded by award-winning producer/director Hunter Todd to present a quality film festival for the Independent filmmakers.


WorldFest is one of the oldest and largest film & video competitions in the world, with more than 4,500 category entries received from 37 countries in 2010. Actually WorldFest is 12 Major film & video competitions in one event, unlike Cannes, Sundance and Toronto, which are just 2 competitions for shorts and features only. Because of our 12 major competitions and the 200+ sub-categories, WorldFest does give a lot of awards, but they are both earned and deserved. No awards are given in any category unless the scores from the juries are high enough to place for honors. Overall only 15-20% of the total category entries actually win an award at WorldFest.
Last changed: Jun 07 2011 at 12:06 AM
Back