Latest News
WESLEY sweeps Telly® Awards

Posted by Administrator (admin) on Jul 04 2010
Latest News >>
31st ANNUAL TELLY® AWARDS - The results of the 31st Annual Telly® Awards were announced on June 8th, and Wesley won a statuette in each of four categories: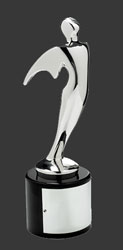 Religion & Spirituality (Silver)
History & Biography (Bronze)
CGI/Special Effects (Bronze)
Lighting (Bronze)

The Telly® Awards are an annual industry awards program for television and film production. Each category is judged by an independent panel of professionals in that area, and judged against a standard of excellence.

The Telly® Awards statuettes are handcrafted by the craftsman at RS Owens, the same firm that produces the Oscar® and the Emmy® Awards. Other winners included programs by National Geographic, The History Channel, The Discovery Channel, NBC Universal, and other prominent networks.
Last changed: Sep 15 2010 at 12:42 AM
Back