Request Wesley in Your Area!
Sign up to bring Wesley to your area! We are still booking the movie in some local theatres and performance centers where there is a demand - but we also now offer options for exhibiting Wesley at your church, as a fundraiser, or at a school, college, or university.
---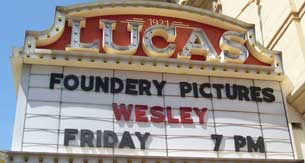 Bring Wesley to a Local Theatre!

Bringing an independent film to a well-equipped digital movie theatre is the best way to experience the movie. It is essential that you first contact the manager of the local theatre or performance center to let them know of the local interest in the film. Then CONTACT US if you would like to bring Wesley to a theater or performance center!
---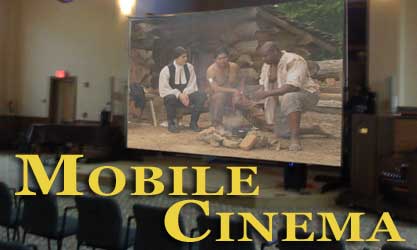 Mobile Cinema

If you have a comfortable venue (such as a comfortable live performance hall or multipurpose room with seating for 300+, but are not set up to show a movie, CONTACT US for information about our Mobile Cinema! For certain situations, we can supply a 10K digital cinema projector, 18' screen, and 1200 watt Dolby® surround sound system. The picture to the right shows our 18' screen set up in the Salemtowne worship hall in WInston-Salem, NC.
---

Have a Movie Night at your Church!

Host a movie night at your church for your members and friends! Be sure to supply popcorn!
---

Use Wesley as the Attraction for a Major Fundraiser!

We are testing a special arrangement for districts or groups of churches to use Wesley as the attraction for a major fundraising program! Raise funds for disaster relief, a camp program, or a building program!
---

Exhibit Wesley at your School, College, or University!

We have licensing arrangements for an on-campus exhibition of Wesley or a public ticketed event!
---
If you have an unusual situation that does hnot fit one of these license, contact us and let us know how you would like to use the film!